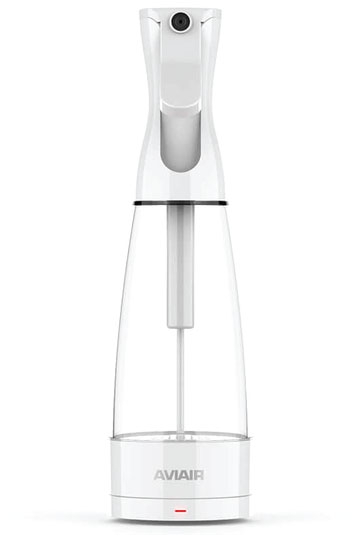 AVIAIR PURE SENSE HANDY SANITIZER
EOW Handy Santitizer. An electrolysing sanitiser that can be produced in minutes by adding regular salt to tap water.
The electrolysing process produces hypochlorous acid, proven to be one of the most effective disinfectants.
Aviair PureSense is equipped with an advanced semi-automatic spray nozzle that sprinkles microdroplets on the surfaces to be disinfected making it suitable to use anywhere, including homes, offices, or retail shops.
NEGATIVE ION SHIELD PROTECTION
Wherever your journey may take you, always feel safe and sanitized with purified air for your precious family.

AVP-858GS Travo Pur Personal Air Purifier :
1. Ions Generated:≥ 28 mil/cm²
2. Operating Time : 144 Hours
3. Charging Time: 3 Hours
Electrolyzed Oxidizing Water Handy Sanitizer
Electrolyzed Oxidizing Water Handy Sanitizer:
1. Ready in just 10 minutes! Use only tap water + salt!
2. Extremely effective to sterilize, deodorize, and to remove pesticides from fruits and vegetables.
3. Harmless to human skin, the choice over irritating rubbing alcohol and traditional disinfectant.
4. Ideal for daily cleansing and sterilization during flu season.